Following a statement by Prime Minister Boris Johnson to the House of Commons on 21 February 2021, the UK Government announced the principles and measures guiding their gradual easing of the third lockdown in England, which will commence on 8 March 2021. The strategy is published in fresh UK Government guidance published on 22 February 2021 (and from which all data below is taken).
The new strategy follows on the publication of positive developments in the area of case-numbers, hospitalisations, and deaths.  These are widely viewed as the result of a strict stay at home policy, school closures, and shop and hospitality industry closures, and a travel ban.
Figure 1: Rolling 7 day average of cases, hospitalisations and deaths in England since 1 March 2020 (Testing capacity and policies have changed since May 2020)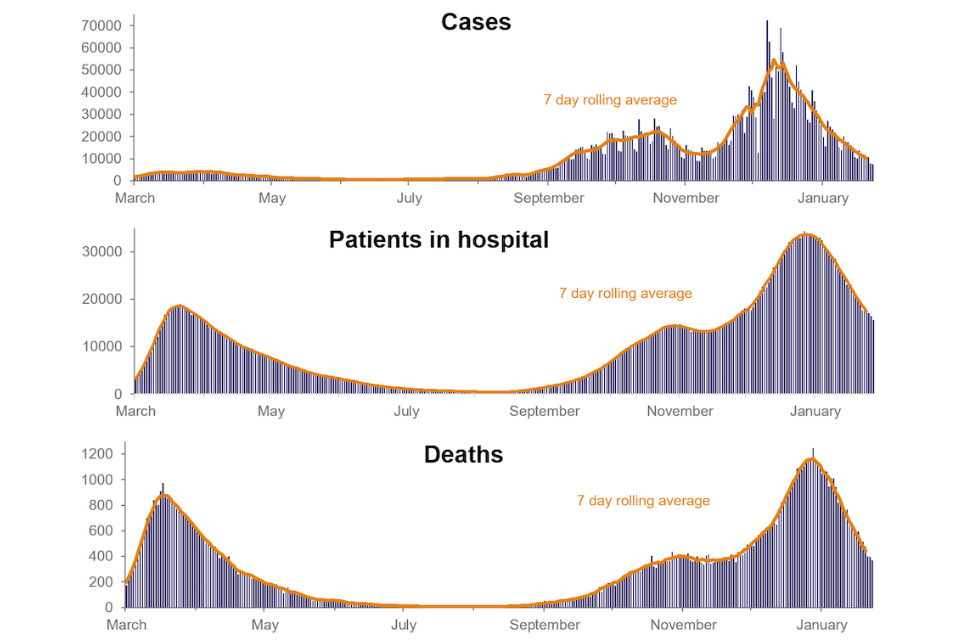 It also accompanies one of the world's most aggressive vaccination strategies, which has led to rapid expansion of first-dose vaccinations across the elderly population in particular (figures as of 23 February 2021):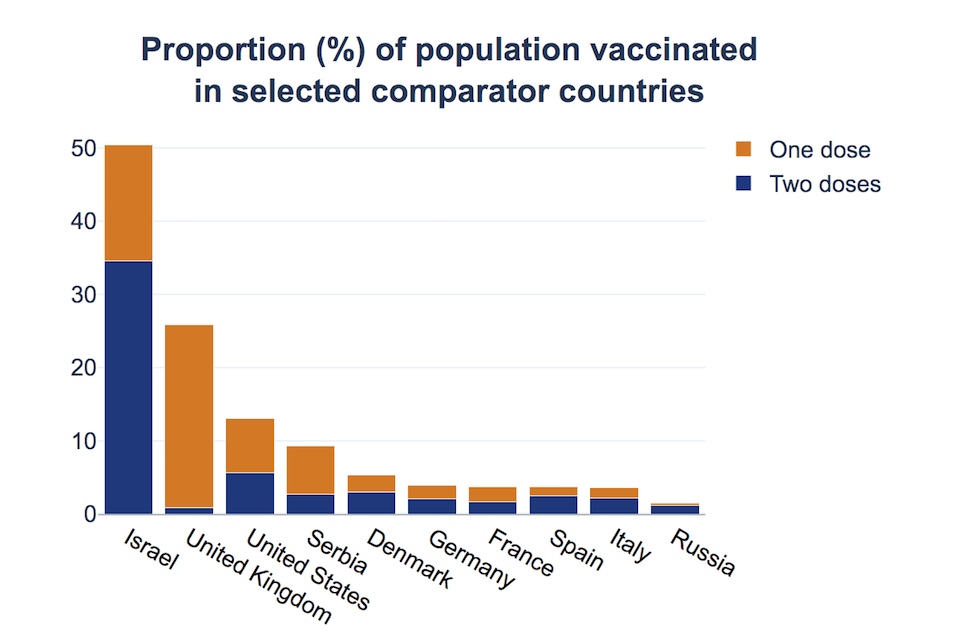 The principles, or tests, which must be met in order to commence and proceed with the easing of the third lockdown are as follows:
"The Four Tests
Test 1: The vaccine deployment programme continues successfully.
Test 2: Evidence shows vaccines are sufficiently effective in reducing hospitalisations and deaths in those vaccinated.
Test 3: Infection rates do not risk a surge in hospitalisations which would put unsustainable pressure on the NHS.
Test 4: Our assessment of the risks is not fundamentally changed by new Variants of Concern."
The first measures easing the lockdown include the following:
"Step 1: 8 March
Schools and colleges are open for all students. Practical Higher Education Courses.
Recreation or exercise outdoors with household or one other person. No household mixing indoors.
Wraparound childcare.
Stay at home.
Funerals (30), wakes and weddings (6)
29 March
Rule of 6 or two households outdoors. No household mixing indoors.
Outdoor sport and leisure facilities.
Organised outdoor sport allowed (children and adults).
Minimise travel. No holidays.
Outdoor parent & child groups (up to 15 parents).
The measures planned for Step 2 are also set out:
"Step 2
At least five weeks after Step 1, no earlier than 12 April.
Indoor leisure (including gyms) open for use individually or within household groups.
Rule of 6 or two households outdoors. No household mixing indoors.
Outdoor attractions such as zoos, theme parks and drive-in cinemas.
Libraries and community centres.
Personal care premises.
All retail.
Outdoor hospitality.
All children's activities, indoor parent & child groups (up to 15 parents).
Domestic overnight stays (household only).
Self-contained accommodation (household only).
Funerals (30), wakes, weddings and receptions (15).
Minimise travel. No international holidays.
Event pilots begin."
As reported on the BBC, the Leader of the Opposition, Sir Keir Starmer MP (Labour), welcomed the plan but said certainty was needed over the future of the Government's furlough scheme for both businesses and workers.
The Scottish Government published its own plan to escape the third lockdown, which referenced and gave effect to WHO's 6 conditions for safe easing. The easing commences in the primary school settings and care homes, followed by a three week gap, then further opening of schools, as well as phased return to universities and colleges, and the allowance of certain outdoor sports and meeting in groups of up to four people.  These measures are followed by another three week gap, to be followed by further easings and so on into the future.
Scotland's easing plan as of 22 February 2021
A more modest strategy for Wales is set out here and the First Minister for Northern Ireland (Arlene Foster) announced the intention to open schools for primary school children from years 1 to 3, yet only from 8 March to 22 March, at which point they would resume remote learning to enable more senior pupils to return to school. The general stay-at-home order will continue to apply until 1 April 20021.
TWEET